SIDING & SHAKE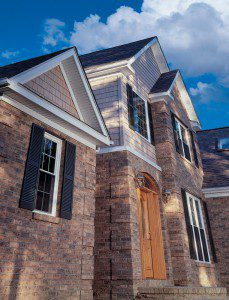 Siding in North Carolina – There's a reason vinyl siding is the most popular choice for remodeling or new construction – even historic renovation. It delivers the warm, quality appearance of wood without the costly, time consuming maintenance and repairs. Vinyl won't split, peel or rot. And because its color goes clear through the panel, it never needs to be scraped, stained or painted.
G&S Contracting offers siding that is manufactured with proprietary designs and ingredients to deliver greater durability, rigidity and wind resistance; more attractive, fade-resistant colors; more authentic touches and historical details. Maintenance? All you need is a garden hose to keep your siding looking great for years to come.
Whether you required exceptional appearance and the highest level of quality and performance of you're looking for value with compromise, there's a siding system within our extensive selection to meet your needs perfectly!
PRODIGY – BY ALSIDE
NEXT GENERATION INSULATED SIDING: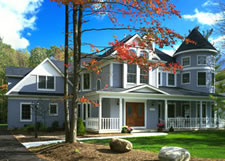 For flawless appearance and unsurpassed insulation that can increase the value of your home, to true maintenance freedom, reduced energy bills and worry-free warranty. Prodigy is the most evolved siding on the market.
A precisely contoured insulating underlayment provides an insulating R-value of 5.0 while providing the rigidity and straight course lines you expect from a wood product. The surface texture has the genuine and subtle feel of finely milled lumber. Prodigy high-performance insulation is form-fit to adhere to the outer panel, providing exceptional strength and durability to withstand Mother Nature while safeguarding against energy loss.
Prodigy Features:
TrueForm Design
RigidLock Locking Feature
Premium 6" exposure width
1-1/12" precisely contoured insulation
Subtle, finely milled grain finish
Lifetime, transferable warranty
---
POLAR WALL – BY NORANDEX/REYNOLDS
ENERGY EFFICIENT, TOUGH AND DURABLE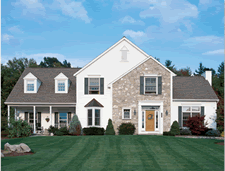 Polar Wall Plus! Is an insulated siding panel system that's tough, energy efficient, and performs will in all kinds of extreme weather conditions.
Polar Wall Plus! Looks good because it lays flat and straight against a wall – mainly because its thick .044' panel incorporates an extra heavy-duty double thick nailing hem and ¾ " butt called "BearHug" that locks panels tight to guard against wind, rain, and anything else Mother Nature has to offer.
Every Polar Wall Plus! Panel has foam permanently laminated to the back providing exceptional strength, rigidity and resistance to hail, sound, and an extra layer of insulation to help manage your energy costs. In addition, premium darker colors feature a revolutionary ColorHold acrylic capstock that provides rich color and is warranted against fade for a lifetime.
---
HAND SPLIT SHAKE – BY NAILITE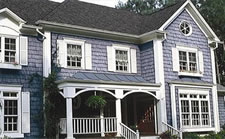 Do you love the rugged look of wood siding, but dread the thought of the routine maintenance? Nailite's Hand-Split Shake offers the perfect solution. Replicating the rugged look of authentic cedar shake, our Hand-Split Shake is a low maintenance, home siding product that resists insects and the elements.
If you are looking for the look of natural cedar siding without the high cost and maintenance, it's never been easier. Nailite's Hand-Split Shake replica panels are deeply grained and roughly textured, giving you the look you want at a price you'll love.
More Info…
---
CRANE BOARD – BY CRANE SOLID CORE SIDING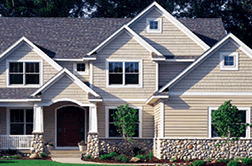 Nothing looks more like wood! Each panel of CraneBoard™ is made of three 6″ planks — providing the same look as the most popular wood siding. Plus, the face of each panel looks authentic — not curved like vinyl siding. Our premium cedargrain texture completes the genuine wood look.
CraneSpan™ 18″ panels are more than twice as wide as cedar, fiber cement, and vinyl siding. Our rigid SOLID CORE backing bridges the dips and contours that mar almost every wall for a straighter, more appealing look
Fewer seams, barely seen! CraneBoard panels cover more area for 50% fewer seams. Plus, our unique SOLID CORE edges interlock to keep seams tight and flat
More Info…
---
SO AS YOU CAN SEE G&S CONTRACTING INC. HAS A VAST SELECTION OF SIDING AND SHAKE OPTIONS. CALL TODAY FOR A FREE IN HOUSE ESTIMATE.
DON'T FORGET ABOUT OUR TRIM ACCESSORIESSHAKES & SCALLOPS BOARD & BATTENSOFFIT & FASCIA
---
At G&S Contracting, Inc., we install siding in Cornelius, Davidson, Huntersville, Mooresville, and Lake Norman, North Carolina.