Quality's Built In

Sunrise Windows do more than just look good. Our company is dedicated to producing the most energy efficient, technologically advanced windows on the market. We stand behind each and every window with a lifetime warranty and customer service second-to-none. Years of experience and extensive research and development make Sunrise Windows your best choice for quality and performance. Style, selection and value… that's Sunrise Windows.
Great Looks
So much style, so much selection, so much value…and these windows are available in so many exciting colors and finishes, including woodgrain interior finishes. You can choose from exclusive decorator features like beveled glass for classic looks, V-groove etching with crisp, contemporary looks, or Georgian styling for an upscale, elegant appearance. All decorative glass options are sealed between the panes to provide an easy to clean and maintain surface.
Superior Insulation
Better than aluminum. Better than wood. Better than hollow vinyl. Constructed from energy efficient PVC, these windows go even further, offering polyurethane foam-filled extrusions that provide higher R-values than other PVC windows for truly effective insulation. Only environmentally friendly polyurethane foams are used, the exact same insulation as in your refrigerator door.
More Strength, More Air Tight
Unlike mechanically fastened corners on typical windows, all of our windows feature fusion-welded frames and sashes that last longer and perform better. Fusion welding creates an impenetrable barrier that eliminates air and water infiltration and provides added strength where it is needed most.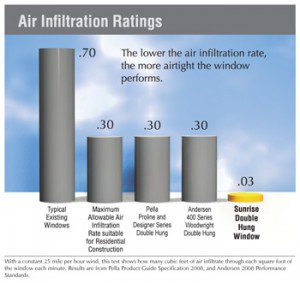 Less Drafts
To guard against cold air and harsh winds from entering your home between the sashes and mainframe, all Sunrise windows feature a triple weather-strip barrier that provides 50% more protection against winter's worst weather. Everyone will claim that their windows are airtight, but we go one step further – we show you results. Our windows have been tested in independent labs that measure air infiltration rates. For a free copy of our test results – and assurance that your new windows are an airtight investment – please contact an authorized Sunrise Windows dealer.
The Competition Is Blown Away
It's simple… all brands of windows are tested by independent laboratories, and the lower the air infiltration rate, the warmer your home will stay in the freezing winds of winter.
Under a constant 25 miles per hour wind, compare the air infiltration rates of different brands. Our tighter manufacturing tolerances and three seals of weather-stripping are designed to provide you the best value, now and years into the future.
Thicker Means Warmer
We do not cut costs by slimming down the overall thickness of the insulated glass unit like many other companies. In fact, all Sunrise units are a full 7/8″ in overall thickness to maximize the insulation power.
Warm-Edge Insulated Glass Technology

Modern Double Pane Sealed Insulated Glass Units were created over 50 years ago and, over that time, the materials to make insulated glass have steadily evolved so that units could be made to last longer and insulate better. Our MaxEdge Spacer System, the next step in the evolution of insulated glass units, provides the best value and thermal performance in windows, and is the exclusive spacer system used in the construction of Sunrise Windows. For more information on our MaxEdge Spacer System and how it stacks up against other spacer systems, download our PDF flyer.
Ultra-U+Plus™ Insulated Glass
Investing in brand new replacement windows means reduced costs on heating and cooling your home. And, the better the insulating R-value of the insulated glass, the more money you can expect to save. Sunrise's exclusive Ultra-U+Plus™ Insulated Glass insulated better than hard and soft coat Low-E glass, double-layered, or even triple-paned products. By reflecting the heat your furnace produces back into your home, you save money on heating costs; and in the summer, the sun's rays are reflected back to the outside so your house remains cooler.
The Sunrise Edge
Let's face it, the insulated glass that is incorporated in virtually all windows looks practically the same, but that is where the similarities end. Performance levels vary significantly. We offer R-values all the way up to R-10; most typical windows only go to an R-value of 3.5. Before you invest in new windows, it pays to investigate the Sunrise edge.
ENERGY STAR® Qualified In All 50 States
Our windows are rated and certified to energy performance standards of the National Fenestration Ratings Council (NFRC). In fact, our windows qualify in all three climate regions of the US Department of Energy's ENERGY STAR® Windows Program, making us one of the few manufacturers eligible to display the new 1-color ENERGY STAR® Climate Region Map.
The True Measure of Energy Efficiency
Overall U-value numbers allow consumers to compare the performance levels of different brands of windows. Lower U-values mean less winter energy loss and more money saved!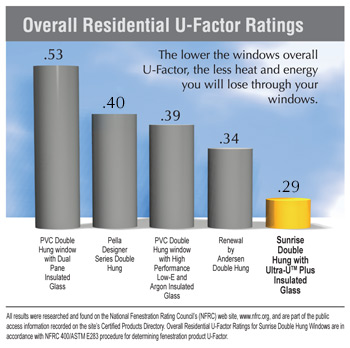 Easy to Clean
Tilt-in construction on double and single-hungs allow you to keep your windows sparkling clean with no muss no fuss. Sashes can also be quickly removed and replaced for quick safe egress. Muntin bars (also called grids or grilles) are sealed between the panes of glass to eliminate time-consuming cleaning.
And we even manufacture a slider that tilts-in to the home for cleaning. With your choice of either lift-out or in-swing sashes, our possibilities are endless.
We Back It Up In Writing
Sunrise Windows come with a lifetime, non-prorated warranty. It's simple – if any part of our window does not perform, we replace it. Free. There are no hidden costs down the road. We guarantee it.