The biggest benefit to having double hung windows in your Huntersville, NC home is the increased ventilation and airflow.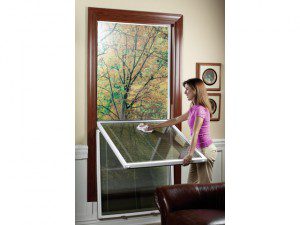 Double Hung Windows in Huntersville – When it comes time to replace your windows, you'll want to consider installing double hung windows. Double hung windows are superior to single hung in virtually every aspect. Single hung windows are constructed so that the bottom panel of glass is the only moving part. When the window is opened, the lower pane is obstructing the second, higher pain and the window is open less than 50%. The biggest benefit to having double hung windows is the increase ventilation and airflow. Both panes of glass are moveable on a double hung window, so you can open both to have increased circulation in the home. The window panes also tilt, which allows for greater control over the airflow. Ventilation is especially important in bathrooms or high-humidity locations, where mold and mildew are constant threats and moisture needs to be monitored.
Another benefit to installing double hung windows is for the ease with which they can be cleaned. Most homeowners with windows on the second floor have to hire a professional window cleaning company to clean the outside of their windows. If you have double hung windows, you are able to safely reach the glass from the inside of your home and do the cleaning yourself, thereby saving money on annual cleaning costs.
At G&S Contracting, we are available to install double hung windows in your Huntersville, NC home. Our professionalism and attention to detail will ensure that your beautiful new windows will be installed perfectly and last you for many years to come. We aim to achieve the highest quality of any installation and product, so you know that when you work with G&S Contracting, you are getting the best. We look forward to helping you with your double hung window installation soon.
---
At G&S Contracting, Inc., we install double-hung windows in Cornelius, Davidson, Huntersville, Mooresville, and Lake Norman, North Carolina.