Sunrooms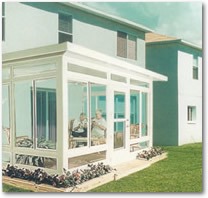 Enclosures in North Carolina – Extra living space not only increases the value of your home, it provides additional enjoyment for you and your family. If you've ever contemplated adding to your home, you've also considered the cost. Home additions using conventional construction methods can be quite expensive. They often require reconstruction of your home, and end up being a major disruption to your life-style.
Structall Building Systems offers a unique enclosure system that can save you as much as 50% over conventional construction methods, and has the design flexibility that very few systems can come close to matching. All of our glass enclosures are custom designed to fit the exact size and specifications you need. The pre-assembled module wall units and unique, patented snap together roof design, make construction quick and easy. In as little as a day, you can be enjoying your new enclosure.
Your new addition will also be able to withstand the toughest of nature's challenges. All Snap-N-Lock™ Insulated Roof Panels are put through extensive and rigid testing to ensure they continue to meet or exceed building code requirements. The continuous design of the roof and the tight joint connection are the keys to its superior building performance and energy efficiency. The wall modules are constructed from heavy-wall aluminum extrusion. When joined together, the wall modulars form posts, adding strength to the walls of your enclosure.
The high insulation performance of the roof will keep you cool and comfortable. And with a few simple design considerations, you can enjoy your new room year-round. Run your air conditioning in the hot summer months, or heat your room during the chill of the winter. And because all panels and extrusions are coated with the highest quality, baked enamel finish, you will enjoy many years of maintenance-free beauty.
Screen Rooms
BRING THE BEST OF NATURE INTO YOUR HOME
G&S Contracting offers a wide variety of solutions for adding a screen room to your home. Whether you convert an existing porch or patio into a screen room or start a new screen room from scratch, we have a solution to meet your needs. Our screen room systems reduce construction time drastically, so you could be enjoying your new room in a couple of days!
CUSTOMIZATION FROM STRUCTALL BUILDING SYSTEMS
Structall's screen rooms are built with all aluminum materials for unsurpassed strength, durability, and low maintenance. Aluminum extrusion will not rust, allowing you years of hassle-free relaxation in your new screen room.
Aluminum extrusion is available in three colors: white, bronze and ivory, which could be contrasted to give a range of modern looks.
Structall screen room systems offer fiberglass screen in a variety of colors and mesh sizes to control heat and air flow, letting you enjoy the best of the outdoors.
Structall Building Systems offers the largest assortment of kick plates in the industry. Kick plates can be ordered with standard smooth or cedar embossed aluminum. Customized panels covered in embossed Luran Thermoplastic are another option. Stucco or cedar embossed aluminum panels, which are insulated and help regulate the temperature of a screen room, are another option.
Structall's screen room is the safest and best pest deterrent available. Keep the pesky mosquitoes, gnats and flies away from your enjoyment of food, family and friends.
TO THOSE WHO WANT TO HAVE THE FEEL OF THE OUTDOORS WITHOUT HAVING TO DEAL WITH THE HARSH REALITIES OF MOTHER NATURE.
Screen rooms allow you to experience the fresh air of a spring rain, the summer breezes without he insects, and the cool crisp winds of autumn. Screen rooms can be easily converted into vinyl or glass enclosures at a later time with very little time or construction.
For more information on enclosures in North Carolina, contact us today!
---
At G&S Contracting, Inc., we install enclosures in Cornelius, Davidson, Huntersville, Mooresville, and Lake Norman, North Carolina.
Similar Services We Offer: