Entry Doors Systems
Doors in North Carolina – G&S Contracting Doors are available in Smooth Steel, Stainable Steel and Fiberglass with a wide variety of clear and decorative glass styles. All types of units such as front doors, side and back doors, sidelites and transoms are available.

Sunrise Sliding Patio Door: A Grand Entrance
A Patio Door You Can Love For A Lifetime! When we decided to make a patio door, we wanted to do it right the first time and solve the problems that many older patio doors have. With the Sunrise Door, you will get efficiency, security, beauty, and ease of operation – day after day, week after week, year after year…We guarantee it.
Whenever you want the convenience, security, and energy-efficient performance that a sliding patio door offers, Sunrise has the answer.
Our exclusive SunSafe+Ultra Insulated Glass insulates better than hard – or soft – Low-E glass, double layered, or even triple-paned products. It works like a 2-way heat reflector to save energy and money. This efficient glass, which is also tempered for added safety, is exclusively available on Sunrise doors.
While most doors only employ 2 seals of weather-stripping, each Sunrise patio door features our exclusive Quad4+Plus Sealing System: 4 seals of weather-stripping on both the jamb pocket and the meeting rail stiles. That's twice the amount of weather-stripping used on other doors!
To provide greater efficiency and thermal performance, Sunrise patio doors feature FiberCore+Plus construction…pultruded fiberglass I-beam reinforcements surrounded with urethane insulation.
In addition to the FiberCore+Plus construction, we insulate the patio door mainframe with UltraCore+Plus, our exclusive urethane insulating core.
All Sunrise patio doors come standard with a heavy-duty handle set and keylock in Forever Finish Brass, guaranteed not to rust or tarnish. There are 5 other optional finishes for you to choose from: Chrome, Brushed Chrome, White, Antique Brass, and Oil-Rubbed Bronze.
Swinging Patio Door: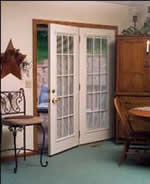 Our swinging patio door systems are available in 2 or 3 lite units and are constructed of the same solid quality. These doors are great and extremely secure, the lock area is reinforced with a 20-gauge steel security plate for added strength.
---
At G&S Contracting, Inc., we install doors in Cornelius, Davidson, Huntersville, Mooresville, and Lake Norman, North Carolina.