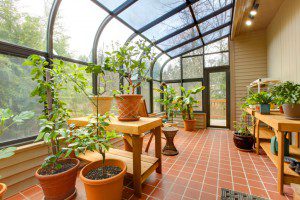 One less-common room that select people absolutely love—including  whimsical individuals, people who love relaxing in the sun without dealing with insects,  and those who enjoy growing gardens close to home—is the sun room. Sun rooms are off the main section a home, enclosed with mesh, glass, or a frame with retractable panels. Sun rooms combine the best of many other types of rooms.
Add Some Whimsy- Many people have always wanted to have tea in a sun room. These areas are charming and reminiscent of times past. Relaxing in the sunshine and enjoying a view of the yard are two reasons why many homeowners decide to add on these rooms or create them by enclosing their porches.
Garden Close to Home- Many people use solariums or sun rooms to grow little herb gardens. Because these rooms are typically open to the sunshine, plants do much better than in other, dimmer rooms. Besides keeping herbs and flowers in this area, you can also put sun-loving pets, like parakeets or other types of birds. As long as the temperature is right, many living things love to spend time in sun rooms.
Enjoy Views Without the Bugs- Mosquitoes and other types of annoying insects can ruin anyone's outdoor time. If you love to sit outside and watch the sun set, but hate spraying on bug repellent, getting a sun room can give you the views without the aggravation. Sun rooms usually have wide windows or screens that give you an unrestricted view of nature, while protecting you from the less savory elements of the outdoors.