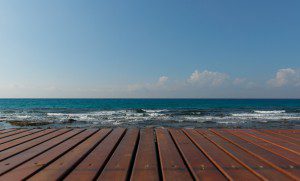 An infinity deck is an architectural feature that becomes more and more popular every year. The idea behind an infinity deck is similar to that of an infinity pool — provide an unrestricted view of the landscape beyond the home. By doing this, architects and builders can shorten or eliminate the separation between the spaces meant for human habitation and spaces where nature is supreme.
An infinity deck can present some of the same issues that homeowners who want an infinity pool in their home might face. With the goal of seamlessly integrating the living space into the surroundings of the home, these decks are often built so that the sight line merges with a major feature of the horizon, be that the ocean, a lake, a wetland, or another area. Because visible railings can conflict with the view from the home, deck, or pool, these spaces either require integration with the close-up landscape or a railing that protects without sacrificing visuals.
As you explore the option of installing one of these decks on your property, perhaps one of the most important factors you need to take into account is how an infinity deck would work with your existing or planned home, and its architectural style. While some home styles might not work very well with this particular style of deck, careful consultation with a professional group can bridge the gap between inside and outside.
With 39 years of experience helping homeowners in Mooresville and around Lake Norman, G&S Contracting, Inc., has everything you need for your home. Family owned and operated, we're invested in our community and in each and every one of our clients. Give us a call today!