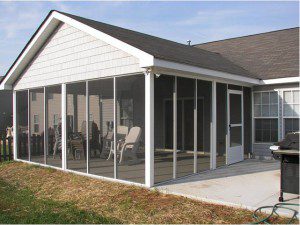 Sunrooms don't only increase the value of homes, but they provide extra comfort and enjoyment for families. The problem is that home improvements using traditional construction methods can be expensive. Often, reconstruction of your home is required, causing a major disruption to your life.
The good news is that Structall Building Systems offer unique sunrooms that can save homeowners as much as 50 percent of traditional construction costs. Plus, they have design flexibility that very few other systems can match. All glass enclosures are made to fit the precise specifications and size needed.
The unique modular units are pre-assembled, and the roof is "snapped together" with a patented design, making construction easy and quick. You could be enjoying your new space in as little as a day!
These innovative sunrooms can also stand up to Mother Nature's toughest challenges. The snap-n-lock roof panels are put through rigid and extensive tests to ensure they meet, or exceed, building code requirements, and the roof's high-performance insulation will keep you comfortable.
With a couple of easy design considerations, you can enjoy your sunroom all year round. Heat it up during the chill of winter, or run the air conditioning in the hot summer months. All extrusions and panels are coated with a superior quality enamel finish to allow you to enjoy years and years of maintenance free beauty.
At G & S Contracting, serving the Mooresville, North Carolina area, we provide clients with the best home improvement products, installed by experts, at fair prices. Family owned and operated, our 39 years in business prove that you can count on us.