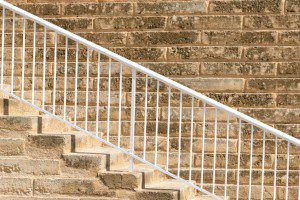 Choosing railing systems for your home can be just as complicated as choosing any other new architectural feature. Fortunately, knowing the home you already have and your future goals can help you choose railing systems that meet your needs and improve the safety and curb appeal of your property.
The first thing you need to do while choosing a railing system is to determine where the rail will be located. Will it serve a staircase, a porch, a larger deck, or a balcony? Knowing how much railing will be needed is often the most important step, as some more expensive materials might make sense for limited usage, but more extensive usage might require a different budgetary choice.
The second important consideration is how different types of railing will work with your home. Larger, more imposing railing choices can create a visual effect that can be inviting or impressing, while less visible railings can blend into the architecture of the home or draw attention to certain features.
Third, determine if this rail is to be installed along with a new deck, or if it is designed to replace a system that has failed or not in the style you want.
Fourth, select the material that best meets your needs. Wood is affordable, with many options for style and design, in addition to being easy to paint or stain to match surrounding architecture or landscape features. Wood railings will require more maintenance on average than other systems, but can last for many years when treated correctly. Aluminum is viewed by many to be elegant, lightweight, and strong, and requires virtually no maintenance. There is a large variety of colors and options available, but aluminium is more difficult to customize. Vinyl railings can also be elegant and virtually maintenance-free, but colors other than white can be much more expensive. Certain types of vinyl aren't rated for certain support situations either, so select vinyl carefully. Steel or wrought iron railings have a thinner profile than other systems, and can be as decorative or austere as needed, but often need protection from rust and corrosion, especially in environments with excess salt due to seawater or harsh winter conditions.
No matter the railing systems you need for your home, G&S Contracting, Inc., has three decades of experience as a family-owned and operated business in Mooresville and Lake Norman. Let us help with your home improvement project today!