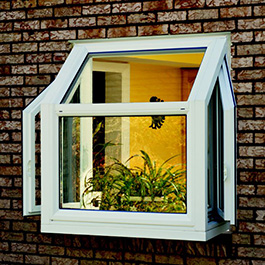 If you're an avid gardener, you probably wish that you could still grow crisp vegetables and glorious flowers in the cold winter months. Well, what if we told you that that you can – obviously not on the same scale – by having a garden window installed. With it you can bring the outdoors in, and enjoy getting your hands dirty! Garden windows offer sun-drenched light because they jut outwards.
Glass shelves inside garden windows are the perfect place to line up potted flowers, herbs or vegetables – all at your fingertips, and all providing a lovely spring-like view on a chilly winter's day.
Professionally manufactured garden windows come in many different shapes and sizes, but they all have benefits that make them worth investing in. Their outward-projecting design allows them to bring in large amounts of light to not only brighten rooms, but to make them look bigger.
A garden window constantly paints a natural outdoor vista, with greenery and flowers set on the shelves indoors. But the best advantage for an avid gardener or cook is having your favorite baby vegetables and herbs at your fingertips. Moreover, plants at garden windows don't have to always be indoors; many homeowners prefer placing boxes on the other side of them. Just reach your hand outside and pick some tasty red cherry tomatoes!
At G & S Contracting, serving the Mooresville, North Carolina area, we provide clients with the best home improvement products, installed by experts, at fair prices. Family owned and operated, our 39 years in business prove that you can count on us.