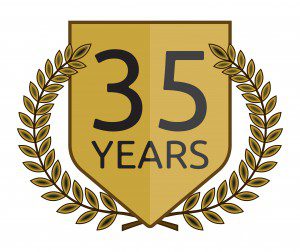 At G&S Contracting, Inc., we have proudly served the Mooresville, North Carolina area for 35 years. To celebrate how far we've come in the home improvement industry and to show appreciation to our valued clients, we're having a huge 35th anniversary party on October 6th.
This party will be held at our showroom on Broad Street and will begin at 3:00pm. We encourage you to bring your friends, your family members, your children, and your neighbors to this event because we will have free food and drinks and other fun activities. The local Chamber of Commerce will also be there to do a new ribbon cutting.
The best news is that this party isn't the only thing we're doing to commemorate our 35 years of success in the home improvement industry. In addition to this celebration, we're also running a huge sale on windows. Right now, if you buy 10 or more windows, we will give you $1,000 off your purchase! Additionally, if you buy 200 feet of our leaf solution, we'll give you $500 off! You really don't want to miss out on either of these sales.
At G&S Contracting, Inc., we're excited to celebrate our 35 years in the home improvement industry with you and look forward to what the next 35 years have to bring. If you have any questions about the party we're throwing on October 6th or the sales that we're offering in honor of our anniversary, please don't hesitate to reach out to us.