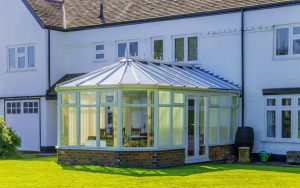 As a homeowner, you know that taking good care of your property is an essential part of maintaining its market value.  The same thing could be said about renovations or additions that are high quality—the better the quality, the more character and style they add.  When you are searching for a way to add a little bit of class to your home, while providing you with a way to enjoy more time in a space that you would typically not use beyond spring and summer, consider adding enclosures, such as screen rooms or sunrooms, to your home.  Sunrooms and screen rooms are basically enclosures made from your porch area, in order to provide you with more living space to enjoy.
Each of these enclosures has a unique set of benefits that make them desirable based on your end goals.  For example, a sunroom is a fully enclosed area with large windows that allow the sunlight to stream in.  You can use it throughout the year, although it will be colder in the winter months.  However, you can counteract the coldness by using colors that will draw the sunlight into the room, thereby making it warmer.  On the other hand, a screen room is fairly similar to a sunroom, except that it has screens instead of windows.  This makes the screen room ideal for enjoying more time experiencing the outdoors, yet protected from harsh weather, bugs and other pests.  It also means that you may not want to use it year round, due to the fact that it is more susceptible to being influenced by weather conditions.
If the idea of having an enclosure that will provide you with greater access to the space that is already a part of your home sounds appealing, contact us at G&S Contracting, Inc.  We are skilled in building many different styles of enclosures that will do just that.