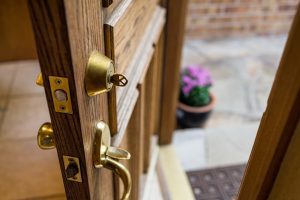 Have you ever really paid attention to the entry or patio doors of your home?  If you are like most people, the answer is, probably not.  After all, the primary function of doors is to let you in and out and provide you with security and protection.  The truth is that as long as they are continuing to fulfil their functional role, you may not be too concerned with their appearance.  However, the appearance of your doors can also provide your home with greater beauty and increased security.
The condition of your entry doors and patio doors is an important aspect in the deterrence of crime on your property.  Imagine that there is a thief or prowler wandering around your home, looking for a way to get in.  One of the first things that they will check is the state of your doors.  If your doors look sturdy, well-kept and fully functional, they may decide to find easier prey.  It has been shown that when homes are well taken care of, would-be intruders tend to move on to other properties instead.
In addition to greater security, doors can add a sense of style, beauty and individuality to your home.  If you aren't pleased with your current doors, you may be tempted to simply update the paint job on them and call it fixed.  However, while this is a viable option, if you really want to enjoy your doors, why not get doors that make a statement about your style and preferences?
When you are ready to find doors that suit your style, turn to us at G & S Contracting, Inc.  We have a variety of high-quality entry and patio doors to choose from.  Let us assist you in securing your home, while expressing your individuality today.